---
Customer Reviews
05/15/2020
Jesus M.
United States
magnetic filament
I have to proof which nozzle and bed temperature was the best. after 5 trials i discover that a nozzle temp of 205 and a bed temperature of 60 was perfect. think that the recommend temp should be a little narrower. Of course that a filament flow of 130 help a lot. I am not an expert, just a rookie but this is my experience with your filament
03/19/2020
Christopher R.
United States
Quite a surprising material - very impressed!
The PLA rusts perfectly with a little bit of "rusting solution" (Hydrogen Peroxide, Salt, White Vinegar). Spray and let it dry - very impressive results. Product is brittle - as noted - so you have to be a bit more gentle with it. I'll get used to the cardboard spool. Initially it bothered me, because it dod not roll nicely on my filament spool roller, but in the end it worked fine. I appreciate the reduction in plastic. All in all, a 4.9/5. Would buy again.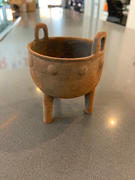 02/16/2020
Aryan E.
Belgium
Great products
Great products, easy to print
11/14/2019
Kyle D.
United States
Prints great!
This is a great filament material. Even on the least amount of infill for my printer I'm able to stick ferrite magnets to it. I found it was necessary to rig up a "tall" spool holder to keep the filament as straight as possible heading to the extruder and it's allowed me to be able to produce some very large, fantastic looking parts with this stuff!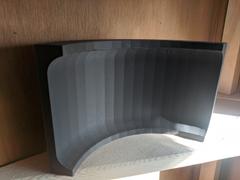 10/01/2019
Timothy H.
United States
Best metal fill out there
I've used the iron and the bronze and you cannot beat proto post for metal fill. they have the highest percentage of metal to pla available. If you're running an all metal hot end, you do need to run it at about 230-240c and i wish that info was more readily available or on the package. great product though