---
Customer Reviews
07/09/2020
Kevin V.
United States
blue glitter and double espresso
They look good and work fine. No issues
01/13/2020
Jared S.
United States
Great product!
Prints great once you tune your settings, and looks great finished! Sparkles wonderfully in the sun even without annealing.
Blue Water on a White Beach, Yeah - It's Dreamy
We have to print this material a little cooler than the other Metallic HTPLA from Proto-Pasta. About 205c-212c seems good depending on your print mm/s. Thinner prints show this material having a faint translucency. The shimmer of this material at different viewing angles reminds me of the water you see on a white beach, it looks so clean and has depth. If you are printing water for a stream on a design, this is a great color.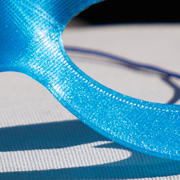 You wont have the Blues with this, or will you?!
This is the most gorgeous blue I have ever seen! It truly is a Winter blue! The sparkles in it are very visible and it prints super smooth! Keep retraction low, and heat under 220 for best results!
Great Filament!!!!!
This filament prints great and looks good. I have found more things to print with the fancy look this filament has. I use dark blue (high five), Winter Blue, Red and Green. They all perform well.