---
Customer Reviews
It is a beautiful color,
It is a beautiful color, and is a new favorite color of green.
08/06/2018
Christopher M.
Love the color
Got a sample of the filament, from my previous order and had to get some more.
Golden Shimmer is PWN For Your RP Parts
The photos of this material just don't do it justice. The golden shimmer of this green material makes any High Elf Ranger look amazing. This material also prints nice and doesn't warp. If it does warp, we haven't seen it yet. Printed at 212c on unheated and heated 35c bed. May you never miss your enemy with this spectacular green.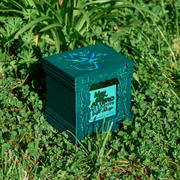 Excellent material, looks great.
Had to run the nozzle heat a little higher than normal PLA.
DH
04/23/2018
David H.
Great filament
Wonderful beautiful filament, prints like a dream...