---
Customer Reviews
02/14/2020
Douglas V.
United States
This stuff is awesome.
I am new to 3-D printing but I didn't expect to get prints this strong. It bridges better than anything I have used to date too.
HTPLA
Great stuff, easy to work with and is very durable! Ordering more colors soon.
Go to Material For Printers Parts - Insanely Durable
This material is hands down the best material to use for building printers. This material is so strong that the ABS cast parts broke before the Proto-Pasta 3D printed part. Tearing, bashing, and heating this material to help remove embedded hardware is nearly impossible. I would say this material makes almost indestructible parts but that would heavily depend on the operator's settings. Printed at 220c on unheated bed, 55-60 mm/s, and no print cooling fan, these settings make the parts unbelievably durable. We don't heat treat these parts either. Would hate to see how much more difficult it is to remove embedded hardware on prototypes after heat treating.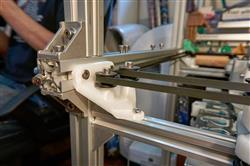 JG
12/27/2017
John G.
Excellent quality
I received a sample of this with my printer and after trying several other brands, I think I'll stick with this one! Wish it came in more colors, like mint or aqua or light pink, or dare I hope for pink glitter :D