---
Customer Reviews
Thanks ProtoPasta!
Excellent - I think I will buy bigger 1kg spools from you folks! Thanks again!
Solid filament from some of the best guys in the industry
Alex from proto pasta is a stand up guy to say the least. Great bunch to work with. Not to mention the wide variety of great and exotic filaments they offer. If your on the edge, pull the trigger!!! I can't recommend any other filament compaNY more that these guys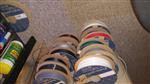 Productive Air Freshner For Your Office!
Aromatic Coffee is really neat in the sense you can make very strong PLA printed parts and have the office smell nice with the aroma of toasted coffee beans. Depending on how hot the material is ran will change the smell a little. We run our Coffee HTPLA at 210c. This stuff also handles bridges and overhangs very well!
Best filament ever!
Protopasta HTPLA Aromatic Coffee is the best filament I've ever used out of the dozens of filament I've tried. Smells amazing when it prints and has a beautiful finish. I really like support US made products too.
unbelieveable good print quality!
Except the fact that it's a fancy coffee filament it also seems to be a really good PLA which is easy to print too. Will definitely order some other colors too! 200°C nozzle 55°C on a bluetaped bed