---
Customer Reviews
07/08/2020
Scott C.
United States
Red Opaque HTPLA is excellent
Proto-Pasta HTPLA is very nice. I bought a cheap PLA and was having problems with it, I thought it was printer settings and spent way too much time trouble shooting. I decided to try Proto-Pasta, low-and-behold, it works perfectly even with highly detailed models with factory settings. I AM A BELIEVER.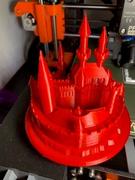 05/04/2020
Graham T.
Canada
Love proto-pasta
HTPLA is by far one of the easiest materials I have worked with. This stuff puts a certain Czech manufacturer to shame! PP puts out really great stuff and was so easy to dial in on my printer. I have superior quality prints with this product consistently. I won't be around the bush, it is pricey, however I think of PP like an expensive chocolate bar; you don't get to have one every day. This stuff is super reliable and I will continue to use it for my more high end projects.
04/30/2020
Timothy S.
United States
Prototype Designer
Great filament! Wide temperature range, great bed adhesion.
Great product
Great plastic to use, easy to print and after heat treat is incredibly strong and heat resistant. Worked great for my clients project. Will definitely be a customer going forward.
LN
08/01/2018
Lavalle, N.
Favorite color
Love this red, favorite color out of every filament I've ever used. I print this on an e3d v6 with a bowden setup at 220C with no issues. Did one calibration cube to get the flow multiplier down and have had zero issue through a full 1kg roll.