---
Customer Reviews
Ya me likey and my CR-10 mini likey too
Printed at 195 on stock CR-10 mini and it turned out fantastic. The finished print looks so smooth and the matte green is a really nice color. I can't justify the price for every day printing although I wish I could but now that I got it printing really well I don't expect to have any bad prints and waste the filament so that helps offset the cost I guess. I will be buying different colors when I have some spare coin laying around to justify the price but until then it's more of a novelty filament for me. Basically it's expensive for half the amount of filament VS other brands but worth it since there is nothing out there like it. Make sure to add some "imperfect pasta" to your order. For $3.00 a package you get to try some new kinds of filament colors you won't find anywhere else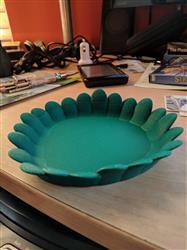 Green is GREAT!
I love the matte green color. The filament texture is wonderful. Because its matte, it's not slick and shiny but adds depth to the print. Printed right out of the box using the provided settings on my MK3. I originally purchased 4 samples. Looking forward to the full rolls and larger prints!
Matte Green
Looks great, no problems!
Matte Fiber 4EVAH!
O man, this stuff is great. Rarely clogs, consistent diameter and looks excellent when printed.
04/19/2018
Richard B.
United States
Green matte on robo R1
Runs great. Did have a print fail, but I'm going to blame it on the printer. I was tuning a new r1 and about 70% up the model I had a weak layer. Really don't think it was the plastic, because once tweaked and machine looked over, the 2nd print was flawless.